She knows not her fate.  She went willingly on a blindate.  All she knew was he liked Goth and Hip-hop.  She knows him from Facebook, so what could go wrong?  She left no address no forwarding phone.  She is a woman, not some girl in her teens.  Nothing will happen, so why do you scream?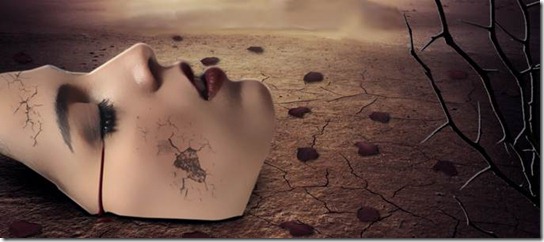 OMG, she thought.  I am the one who screams.  I am awake, this is not a dream.  I met him here, in a dark faraway place.  I thought for a party, but I am disgraced.  I am held captive, I am being raped.  Not just by him, but by anyone with some cash to scrape.
I need to close my eyes, I want to lay down and die.  What have I done?  Leave me alone!  Let me go, I cry and cry!  I have been cracked.  I will die.  How could I have been so stupid?  How could I have fallen for his lie?
I barely knew him.  We had so many friends in common.  Well, on Facebook..I am such a moron!  I never thought this would happen to me.  I thought I had it under control, see!  No one knows where I am.  I went out, I left, on a whim-wham!  I have walked into my death.  Trapped into rape until used up, then I will be disposed of, killed or maimed.  How could I have been so lame?
Oh no, here comes another one.  I can not do this anymore.  Please, Dear Lord, I pray.  Please take me away.  Somewhere peaceful, and soothing.  Someplace pleasant and moving.
This is the place.  My happy place.  My side of heaven.  Please let me in, God I embrace.  I close my eyes, I draw my last breath.
Murder isn't so bad, when followed by death.
by Renee Robinson